Session intensive de lecture et de mémorisation du Coran
 Sous la supervision du cheikh Wisam Al-Toum, diplômé dans les dix lectures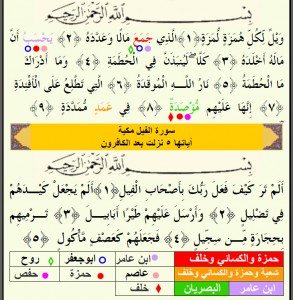 Durée et horaire du programme: Novembre et décembre, chaque mercredi et vendredi
de 18h00 à 21h00.
Objectifs de la session :
Qualifier l'élève dans l'étude des principes de Tajweed sur les plans théorique et pratique
l'Encourager à adhérer au programme afin d'apprendre des parties du Coran
L'aider à s'améliorer dans sa lecture du Coran
Personnes cibles : Toutes catégories à partir de 8 ans
Coût de la formation : GRATUIT
Les élèves qui suivent le programme recevront une attestation à la fin de la session.
Pour toute information, contactez l'administration de la mosquée
Intensive courses for reading  and  memorization  of the Quran
 Under the supervision of Sheikh Wisam Al-Toum, graduated in the ten  Qira'at 
WHEN? November and December, each Wednesday and Friday from 6:00 pm to 9:00 pm.
Objectives of the program:
Qualify the student in the study of the theoretical and practical principles of Tajweed
Encourage him to join the program in order to learn parts of the Quran
Help him to improve its reading of the Quran
Who should attend? From age of 8 and above.
How Much?
Students who follow the program will receive a certificate at the end of the session.
For more information, contact the administration of the mosque.